In Germany (956 km)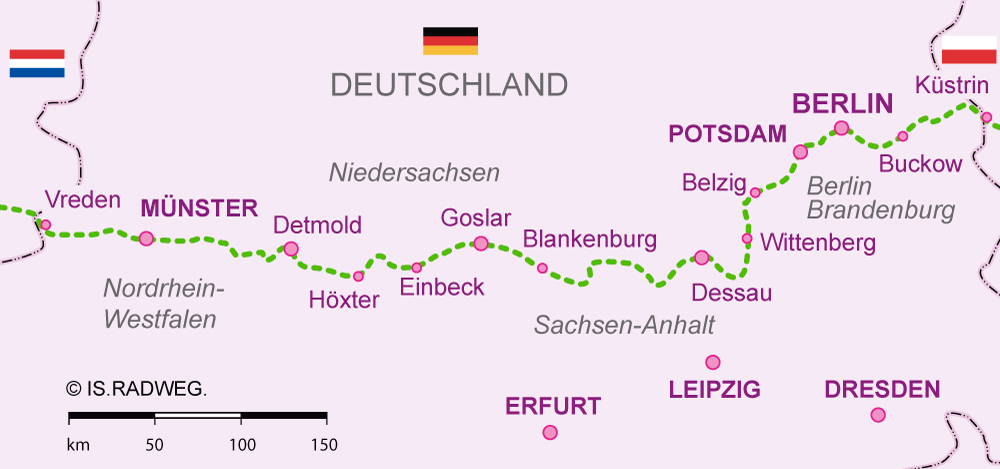 The Euroroute R1 crosses the country directly between the borders from Netherland to Poland.
Moving from the west it traverses the Münsterland, continues through the small mountains of the Teuteburger Wald (Weserbergland) and along the north side of the Harz.
After that crossing the Magdeburger Börde, the biosphere reserve Mittelelbe and Fläming which is not that hilly. This is the place of UNESCO world heritage like the Bauhaus Dessau, the Dessau-Wörlitzer Gartenreich and the Lutherstadt-Wittenberg.
Also the section of the route through the capital - crossing Potsdam and the Berlin city district along the Brandenburger Tor - is rather relaxing.
The last section to the border of Poland is in contrast to the lively Berlin. Close to nature you experiencing the Müggelsee, the Märkiche Schweiz and the Oderbruch.
The German part of the track is described as varying because of the sightseeing alongside, but challenging in the mountains.
The Euroroute R1 is using the tracks of the D-Route 3 of the national cycle network which is rated with 3 stars and is clearly signposted.

The German part of the eurorout R1 is identically with the new eurovelo 2 from Dublin via Berlin, Warsaw, Minsk and Moscow (Capital Route)
Europaradweg R1, Euroroute, Karten, Radweg, Reiseführer, Shop, R1, Radweg R1, Baltikum, Balticcycle, St. Petersburg, Boulogne-sur-Mer, Kurische Nehrung, Lettland per Rad, Frankreich, Belgien, Niederlande, Polen, Kaliningrad, Litauen, Lettland, Estland, Etappenkalkulator, bicycle.lt, Latvia, Vänta Aga, Ostseeküste, Tallinn, Riga, Küstenradweg, Ostseeküstenradweg, Masuren, per Rad, Klaipėda, Höxter, Europa-Radweg R1, Tartu, Tallinn, Valka, Valga, Riga, Iwanowgorod, Velopiter, Narva, Sigulda, Tukums, Kuldiga,