In Poland (659 km)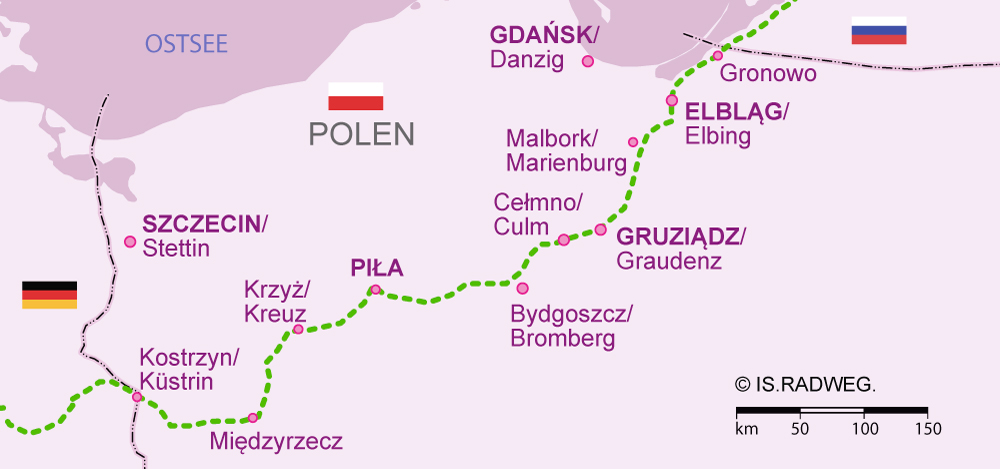 leads from Kostrzyn at the Oder through Lubusz Land, through the bottomland of Noteć, along the Wisła/Vistula and the Vistula Lagoon through the western part of Poland to the Russian border at Kaliningrad close to Gronowo.

The route is considered to be very close to nature - its charm often only becomes apparent at the second glance. Many highlights are situated a little offside the route, often only few hundred meters, as for example the worth seeing historical town centers of Koronowo, Chełmno/Culm, Kwidzyn and Elbląg. Others like Bydgoszcz and Malbork are reachable from the Euroroute R1 in 30 minutes by train or in a day trip by bike.

Often, many cyclists arriving in Poland are concerned about possible communication issues and general safety. When talking with R1 cyclists, this worries seem to be by no means justified. In contrast, they talk about pleasant contacts and a lifestyle which some of them miss at other places. Some honest cyclists confess be feel ashamed because of their prejudices and wish to become more familiar with this country.

The Euroroute R1 is continuously signposted with "R1" in both directions. The signposting is good to very good, but sometimes the signs are twisted. The route leads with exception of some inner-village roads through roads connecting different towns with relatively little traffic. However, sometimes there are passages with much traffic. The road quality is generally perceived as good.

The Euroroute R1 in Poland often meets train routes and hence offers smooth arrival and departure options.
Europaradweg R1, Euroroute, Karten, Radweg, Reiseführer, Shop, R1, Radweg R1, Baltikum, Balticcycle, St. Petersburg, Boulogne-sur-Mer, Kurische Nehrung, Lettland per Rad, Frankreich, Belgien, Niederlande, Polen, Kaliningrad, Litauen, Lettland, Estland, Etappenkalkulator, bicycle.lt, Latvia, Vänta Aga, Ostseeküste, Tallinn, Riga, Küstenradweg, Ostseeküstenradweg, Masuren, per Rad, Klaipėda, Höxter, Europa-Radweg R1, Tartu, Tallinn, Valka, Valga, Riga, Iwanowgorod, Velopiter, Narva, Sigulda, Tukums, Kuldiga,