In Great Britain (194 km)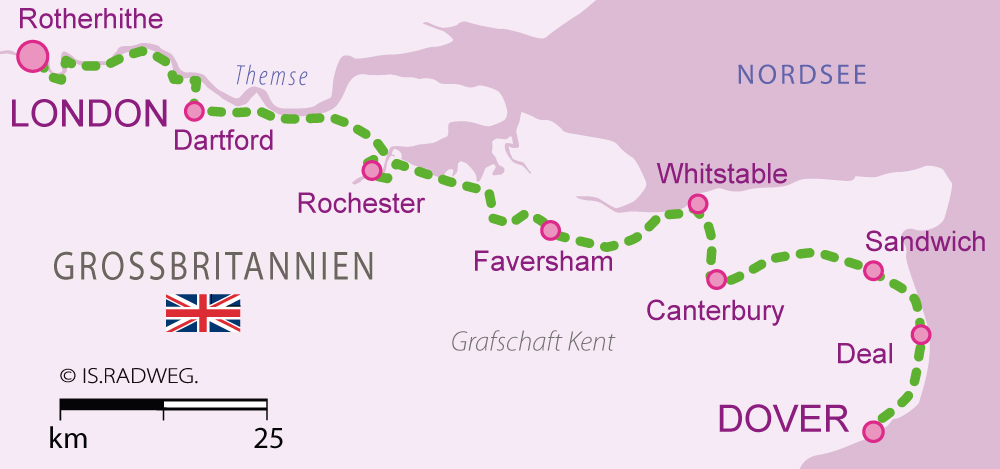 The Euroroute R1 in Geat Britain goes from the Tower Bridge elong the Tames.
Next it passes throught the country Kent to the ferry-habour in Dover.

It uses the cycle phath NCN 1 (National Cycle Network). It is very well marked with cycle track signs.

The route is e mixture of river cyclepathes, city-passages an rural areals.

Many small and large historical places lie along the cycle path - holiday places at the North See Coast and the view of the English Channel, the habour and the White Cliffs of Dover ar also very worth seeing.


Europaradweg R1, Euroroute, Karten, Radweg, Reiseführer, Shop, R1, Radweg R1, Baltikum, Balticcycle, St. Petersburg, Boulogne-sur-Mer, Kurische Nehrung, Lettland per Rad, Frankreich, Belgien, Niederlande, Polen, Kaliningrad, Litauen, Lettland, Estland, Etappenkalkulator, bicycle.lt, Latvia, Vänta Aga, Ostseeküste, Tallinn, Riga, Küstenradweg, Ostseeküstenradweg, Masuren, per Rad, Klaipėda, Höxter, Europa-Radweg R1, Tartu, Tallinn, Valka, Valga, Riga, Iwanowgorod, Velopiter, Narva, Sigulda, Tukums, Kuldiga,